Quick question: "What audio interface can I buy with 100€?". At the moment you have some good devices to check out (even if the answer to this question have to be considered within a certain time frame, things are always evolving these days :D), you just need to understand what your needs are.
Let's suppose we need the following:
At least 2 input (XLR and jack inputs, to have more flexibility)
Phantom power (if you have a condenser mic, this is mandatory)
Headphone output (everyone wants to hear what's going on while recording)
Capable to record at least at 24 bit / 44.1 KHz (frankly speaking, I think 24 bit is the minimum requirement if you want to avoid problems with clipping. With 16 bit you may clip the input signal way easier, just go with 24 bit and you're done)
USB interface
Here you are what the market can give: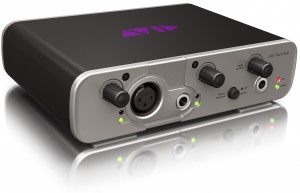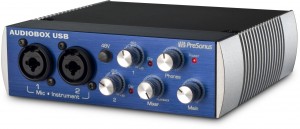 Repeating all the specs for each device is pointless, they all have what we listed above, moreover each one comes with a DAW (which is good if don't have one already…). I really like PreSonus products, but the choice is personal, so choose whatever you like most 😉
Another quick advice, if you want to stay even lower with the budget and you don't need a DAW, I recently found the ESI Maya22 USB. I never tried it but the specs are quite interesting!
For any question or comments please write me below!